11. February 2021

Be ready to play Little Nightmares II on release day! When you preorder, the payment will not be charged until the order has been delivered. Your product key will be sent on release day at the latest, but usually 1-2 days before.
PREORDER BONUS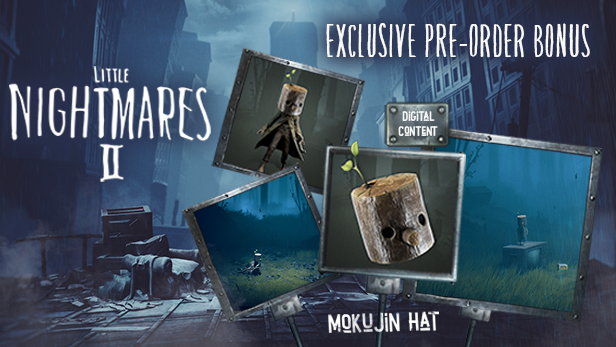 Pre-order Little Nightmares II and receive the Mokujin Hat as wearable headgear for Mono.
LITTLE NIGHTMARES II GAME DESCRIPTION
Return to a world of charming horror in Little Nightmares II, a suspense adventure game in which you play as Mono, a young boy trapped in a world that has been distorted by the humming transmission of a distant tower.
With Six, the girl in the yellow raincoat, as his guide, Mono sets out to discover the dark secrets of The Signal Tower. Their journey won't be easy; Mono and Six will face a host of new threats from the terrible residents of this world.
Will you dare to face this collection of new, little nightmares?
FREQUENTLY ASKED QUESTIONS
How does it work? Will I receive Little Nightmares II as a physical copy?
No, you will receive Little Nightmares II product key (Little Nightmares II CD Key), that you will receive by e-mail. Afterwards, you will need to use the Steam-platform to redeem your Little Nightmares II product key (Little Nightmares II CD Key), and you'll be ready to download, install and play Little Nightmares II. You will receive a step-by-step guide on how to do this along with your purchase. It's easy as can be!
What does Little Nightmares II contain? Will I receive the same content as on Steam?
You will receive the standard edition of Little Nightmares II as a digital download for Steam.