Be ready to play NBA 2K20 on release day! When you preorder, the payment will not be charged until the order has been delivered. Your product key will be sent on release day at the latest, but usually 1-2 days before.
PREORDER BONUS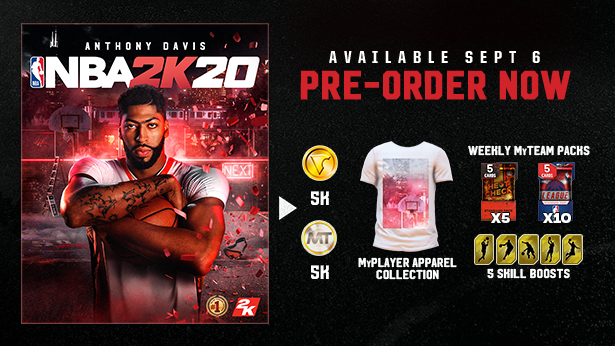 Pre-order NBA 2K20 now to receive 5,000 Virtual Currency, 5,000 MyTEAM points, MyTEAM packs, and more!
NBA 2K20 GAME DESCRIPTION
2K continues to redefine what's possible in sports gaming with NBA 2K20, featuring best in class graphics & gameplay, ground breaking game modes, and unparalleled player control and customization.
FREQUENTLY ASKED QUESTIONS
How does it work? Will I receive NBA 2K20 as a physical copy?
No, you will receive NBA 2K20 product key (NBA 2K20 CD Key), that you will receive by e-mail. Afterwards, you will need to use the Steam-platform to redeem your NBA 2K20 product key (NBA 2K20 CD Key), and you'll be ready to download, install and play NBA 2K20. You will receive a step-by-step guide on how to do this along with your purchase. It's easy as can be!